TACL Chapter Updates: TAP-LA bands together community partners to raise funds for Tainan Earthquake Relief
By: Jeanette Low, TAP-LA President
Read the original article here.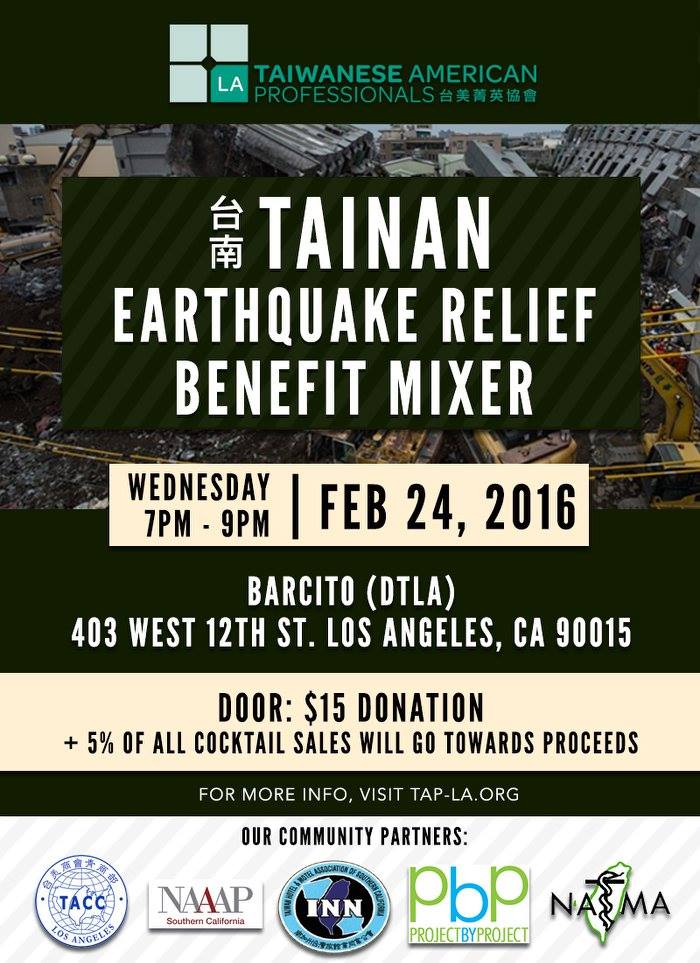 On February 6th, just two days shy of the Lunar New Year, Taiwan was struck by a devastating 6.4 magnitude earthquake in the southern city of Tainan. During a time when people were supposed to be celebrating the coming of the New Year, casualties piled at 117 deaths and 550 injuries.
In an effort to raise funds quickly to support the victims, TAP-LA planned a Benefit Mixer at the swanky new DTLA gastropub, Barcito. TAP-LA also reached out to other APA community organizations to help promote the event including the Taiwanese American Junior Chamber of Commerce, North American Taiwanese Medical Association, Taiwanese Hotel & Motel Association, NAAAP – Southern California, and Project by Project Los Angeles.
With less than two weeks of promotions, over 150 people from all over the community showed up to support the cause on Wednesday, February 24th. It was an evening of networking, good food/drinks, and overall education and awareness of the Tainan earthquake and on-going relief efforts.
For me, it was an eye-opening and empowering experience, seeing our community band together so quickly behind this important cause.Since the earthquake, Tzu Chi has mobilized over 12,500 volunteers to the ground and provided direct financial aid, hot meals, blankets, foldable beds, scarves, emergency kits, and eco heaters to those left without a home.
The Tainan Earthquake Benefit Relief Mixer raised over $4,000 and 100% of the proceeds went towards Tzu Chi's relief efforts in Tainan.  
A big thank you to our passionate and caring Taiwanese American and Asian American community!